Driving in Rain & Monsoons
Driving in wet conditions can be hazardous, but you have a better chance of staying safe if you prepare for wet weather.
Even drivers with local knowledge can be caught out during heavy downpours, as even the most modern road surface is still susceptible to standing water. This creates a potential aquaplaning hazard as well as significantly reducing visibility. Take it easy through standing water and if the steering does become unresponsive due to the rain, ease off the accelerator and slow down gradually.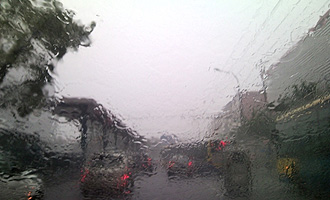 Dealing With Flooding
| | |
| --- | --- |
| | Only drive through water if you know that it's not too deep. Drive slowly and steadily to avoid creating a bow wave. Allow oncoming traffic to pass first and test your brakes as soon as you can after leaving the water. |
| | Don't try driving through fast-moving water, such as at a flooded bridge approach – your car could easily be swept away. |
| | Watch out for standing water, trying to avoid it if you can, and adjust your speed to the conditions. |
| | As you drive slowly through standing water, use a low gear so the engine rev's are higher; water in the exhaust could otherwise damage the catalytic convertor. |
| | If you break down in heavy rain don't prop the bonnet open while you wait for the patrol to arrive. The engine will be more difficult to start again if the electrics are all rain-soaked. |
Aquaplaning
| | |
| --- | --- |
| | Aquaplaning is when the tyres surf the pooled water and in doing so lose contact with the road. |
| | The way out of an aquaplane is to gently release the accelerator. This slows your car allowing the tyres to regain traction with the road. |
| | Whilst aquaplaning never brake and avoid trying to steer. If you do you will be in danger of losing control of your car. |
Dealing With Spray
| | |
| --- | --- |
| | Water that is forced up from the road as vehicle drive over it can also cause hazards |
| | Heavy vehicles such as trucks and buses cause the most spray but even a small family sized car travelling at a normal speed can produce enough spray to cause a hazard. |
| | Be extra carefully after a bout of rain has ended, when your wipers are off but when there is still water on the road. |
| | To keep spray to a minimum, create a good distance between you and any vehicle that you follow. If you see a heavy vehicle coming towards you then switch the wipers to full speed in readiness |
Visibility
| | |
| --- | --- |
| | Keep your windows clean. Clean windows are less likely to mist over. |
| | Use a quality windscreen washer fluid. |
| | When windows start to mist turn on your air-con or heater fan. |
| | Replace ineffective wipers. |
©

has compiled this information to be used for educational purposes only